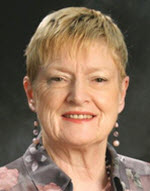 Professor Angela Delves is currently Professor Emeritus of
Central Queensland University
in Australia. She was the former Deputy Vice-Chancellor and Vice-President at the university. She has an illustrious career spanning 4 decades, both as an academic and a senior research scientist in UK and Australia.
She was the former Pro Vice-Chancellor of Southern Cross University, responsible for the strategic development of quality, enterprise and international collaborations of the university. She was also the former Academic Registrar at Australian National University.
Angela Delves has extensive experience in the academic and administrative areas of a university, with particular expertise in the areas of regional multi-campus university operations, community engagement, international operations and organizational change management. She is a renowned expert in Genetics and Molecular Biology and her research interests focus on aspects of genetics and crop improvement. She has written numerous articles in this specialized area and has been a frequent speaker at international conferences in the United States, Asia, Australia and Europe, specifically in Vienna, Netherlands and Sweden.
Scope of Expertise: Genetics and Molecular Biology; Higher Education Management.
Primary Country of Work: Australia